How wide does a load need to be before an attendant is required?
What period of time does one tachograph chart cover?
You're driving on a motorway. What does it mean when a lorry ahead of you switches on its hazard warning lights?
When should your lorry coupling system (fifth wheel) be checked and lubricated?
You're driving a lorry weighing more than 7.5 tonnes on a dual carriageway in England. What does this sign mean?
You're driving a vehicle that's over 17 metres (55 feet) long. What should you do at a level crossing?
Why should you carry out a daily walk-round check before setting off?
What shape are the labels that indicate a vehicle is carrying hazardous cargo?
You're driving your lorry on the motorway. What should you do when visibility is reduced by heavy rain and spray?
What should you do before driving your lorry away from a wet construction site at the side of a motorway?
Why should your engine oil be changed at the recommended intervals?
You're at the scene of an incident. How can you help someone suffering from shock?
Why do motorcyclists use dipped headlights in the daytime?
What should you do if the load on your lorry becomes insecure?
You're driving a lorry carrying a load that's 4.5 metres (14 feet 9 inches) wide. What's the maximum speed you're allowed to drive on a motorway?
What would you secure with a dog clip?
Why should you check for motorcyclists just before turning right into a side road?
Why is it important to adjust your head restraint properly?
When are air deflectors most effective?
What should you do if your tachograph chart becomes dirty or damaged?
You're delivering boxes of chilled food to a supermarket. What specific training would you need?
What happens at toucan crossings?
Where are you most likely to find pedestrians stepping into the road?
What should you do if you lose your way in heavy traffic?
What would help to reduce the impact that your lorry has on the environment?
Which of the following is important when you're getting out of a lorry cab?
You'll be driving your vehicle in Europe. Which of these documents must you carry?
What colour is the auxiliary line on a three-line braking system?
What's the main reason for cleaning your wheels and tyres when you leave a building site?
Why are ropes unsuitable to tie down a load of scrap metal?
When should wheel nuts be checked?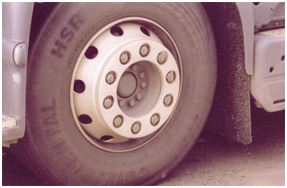 Where does a high-pressure fuel injector deliver fuel?
Where should you park your vehicle before checking the engine oil level?
In frosty weather, what precaution could a lorry driver take to prevent moisture from freezing in the air-brake system?
You're driving a lorry with a sleeper cab. When would a quick sideways glance be helpful?
What does this temporary sign mean for drivers of vehicles over 7.5 tonnes maximum authorised mass?
Your vehicle has broken down at night on a two-way road. How should you try to leave the vehicle?
What does this warning light on the instrument panel mean?
You've been driving a lorry without a break for four-and-a-half hours. Under EU rules, you must now take a break. How long must this break be?
At the scene of an incident, an injured person is lying in a busy road. What's the first thing you should do to help?
You're at the scene of an incident. What does it mean if there's a plain orange rectangle displayed on one of the vehicles?
You're approaching a bridge that has no height restriction on it. What's the minimum height under the bridge?
You hit the kerb at speed. What part of your vehicle should you check for damage?
Tankers carrying liquids can experience the 'wave effect'. What helps to reduce this problem?
Free LGV theory Test
The Large Goods Vehicle (LGV) Theory Test allows both lorry and truck drivers to practice freely and see how the driver theory test works as same as DVSA transport. You are requested to practice and do more sample tests till you understand all the topics and it is the best service to help you score 99%.
Process of Free LGV theory Test
The test presents 45 questions with multiple answer choices; you need to score 38 to qualify the examination. The Test duration is 57 minutes. It would help if you got an average percentage of 86 to promote to the next test.
Permitted to review your test participation performance at the end of every test and then go for the next free LGV theory test.
How many times can I practice the Free LGV theory Test
We have 20 mock tests to practice with the latest syllabus that are drawn-out form DVSA driver theory test. To score best, go for premium.